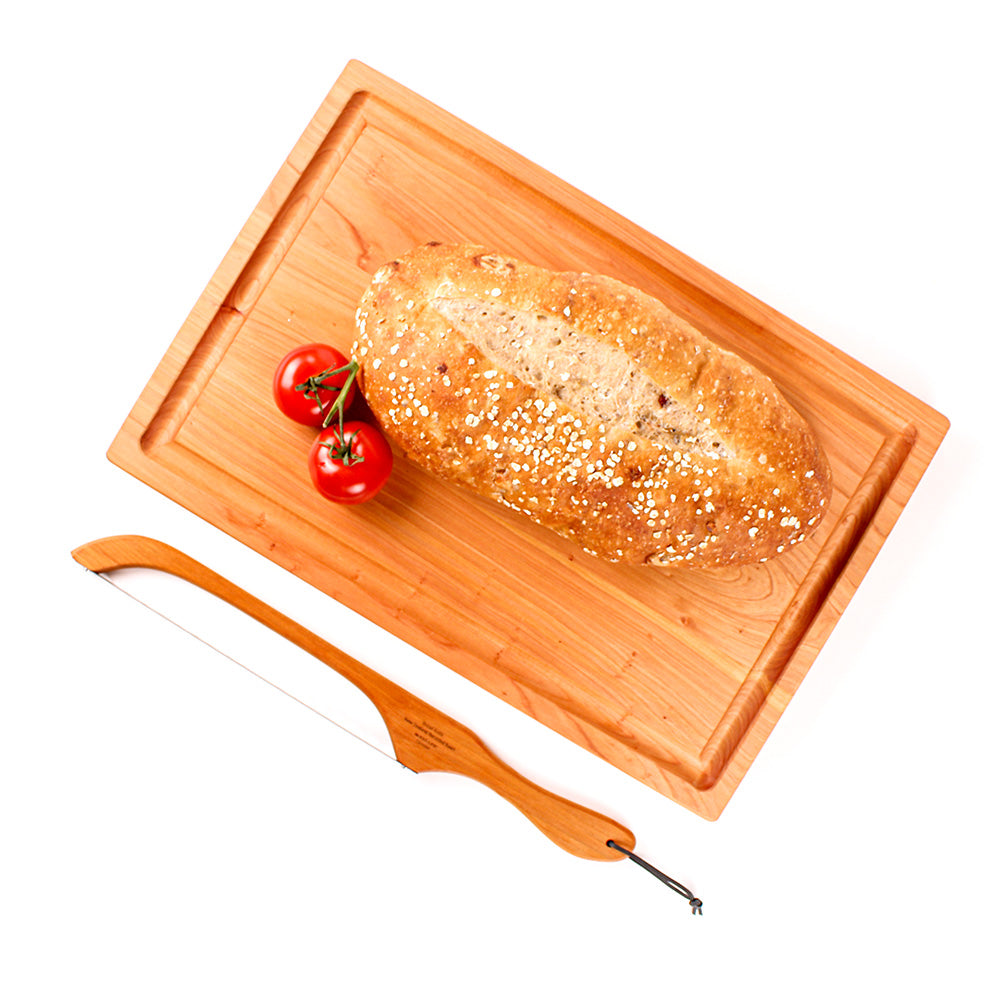 Cutting and Chopping Boards
Our cutting and chopping boards are the most practical kitchen tool for your food preparation. 
They have strong natural antibacterial properties, are easy-care and will look after your knives, keeping them sharper for longer.

How are they made?
Our cutting and chopping boards are all made by joining several pieces of timber together using glue. Known as edge-joining, this construction reduces the chance of a chopping board warping, cupping or splitting. We carefully select the way the timber is joined to achieve the best possible matching grain. Using advanced techniques and precision machinery to achieve high-quality joins with water-based, waterproof glue that makes the join itself stronger than the timber. These boards are made to last a long time and will serve as a practical kitchen tool for years to come.
Regular price

From $26.00 USD

Regular price

Sale price

From $26.00 USD

Unit price

per

Regular price

From $28.00 USD

Regular price

Sale price

From $28.00 USD

Unit price

per

Regular price

From $32.00 USD

Regular price

Sale price

From $32.00 USD

Unit price

per

Regular price

From $35.00 USD

Regular price

Sale price

From $35.00 USD

Unit price

per

Regular price

Sale price

$35.00 USD

Unit price

per

Regular price

Sale price

$37.00 USD

Unit price

per

Regular price

Sale price

$38.00 USD

Unit price

per

Regular price

$64.00 USD

Sale price

$38.00 USD

Unit price

per

Regular price

Sale price

$41.00 USD

Unit price

per

Regular price

From $44.00 USD

Regular price

Sale price

From $44.00 USD

Unit price

per

Regular price

$57.00 USD

Sale price

$51.00 USD

Unit price

per

Regular price

Sale price

$57.00 USD

Unit price

per

Regular price

$70.00 USD

Sale price

$57.00 USD

Unit price

per

Regular price

Sale price

$60.00 USD

Unit price

per

Regular price

$70.00 USD

Sale price

$61.00 USD

Unit price

per

Regular price

Sale price

$62.00 USD

Unit price

per

Regular price

From $63.00 USD

Regular price

Sale price

From $63.00 USD

Unit price

per

Regular price

$83.00 USD

Sale price

$63.00 USD

Unit price

per

Regular price

Sale price

$63.00 USD

Unit price

per

Regular price

Sale price

$64.00 USD

Unit price

per

Regular price

Sale price

$64.00 USD

Unit price

per

Regular price

$83.00 USD

Sale price

$76.00 USD

Unit price

per

Regular price

$88.00 USD

Sale price

$76.00 USD

Unit price

per