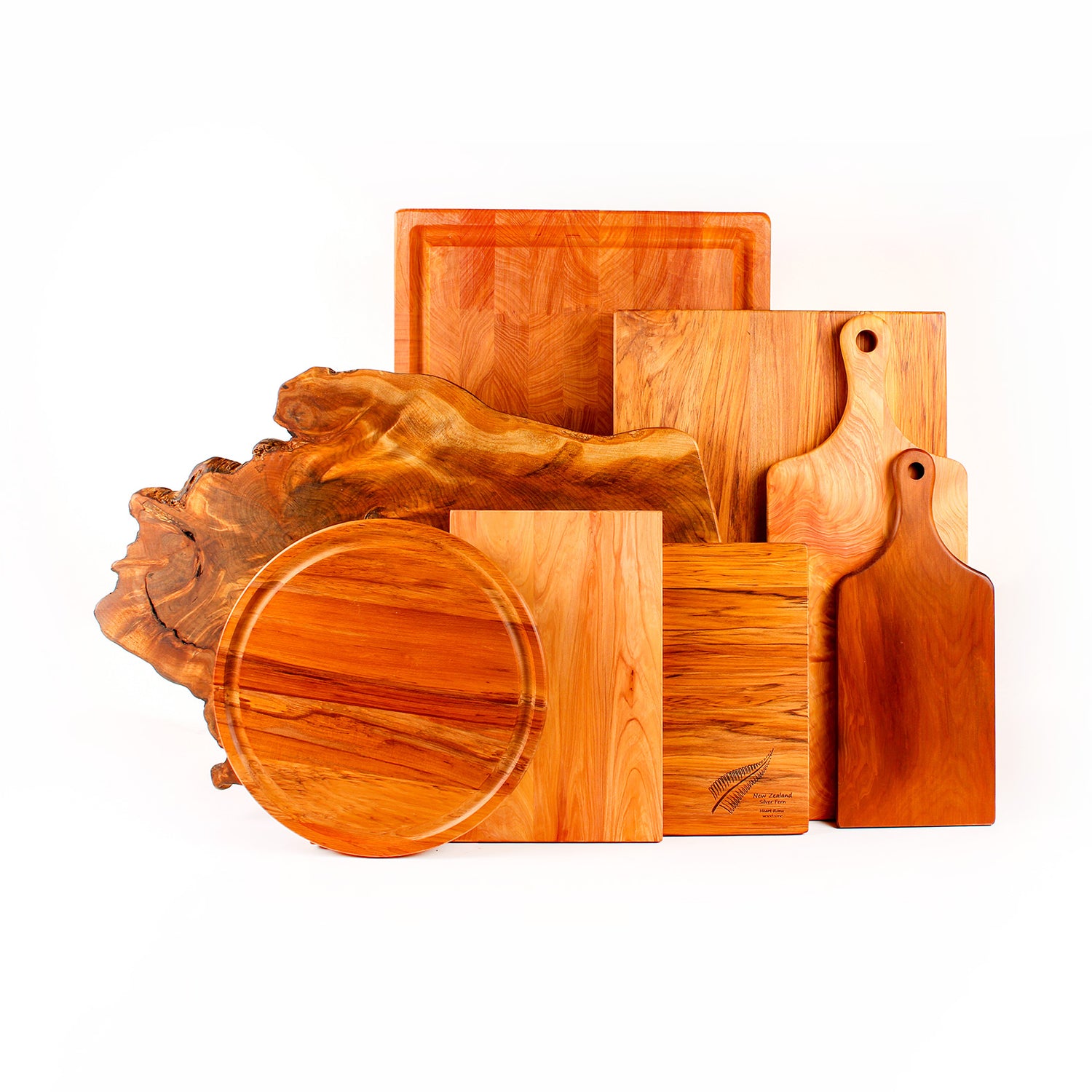 Shop all wooden boards
Our boards will be a practical and beautiful addition to your kitchen. Useful as everyday kitchen boards, serving boards to present everything from antipasto, cheese platters and pizza or as carving boards for the delicious family roast! They also serve as a great bench saver for the hot pots and pans, or even just as a decorative piece in your home.
With over 40 years of experience, our aim is to design pieces that look great while being practical. Each board shows our attention to detail in matching timber grain, finish sanded to a silky smooth feel and ensuring rigid construction so your board will last you for years to come. We are always coming up with new sizes and ideas, so please check back often!
Regular price

From $63.00 USD

Regular price

Sale price

From $63.00 USD

Unit price

per

Regular price

From $35.00 USD

Regular price

Sale price

From $35.00 USD

Unit price

per

Regular price

$83.00 USD

Sale price

$76.00 USD

Unit price

per

Regular price

From $105.00 USD

Regular price

Sale price

From $105.00 USD

Unit price

per

Regular price

Sale price

$51.00 USD

Unit price

per

Regular price

Sale price

$62.00 USD

Unit price

per

Regular price

$88.00 USD

Sale price

$76.00 USD

Unit price

per

Regular price

Sale price

$64.00 USD

Unit price

per

Regular price

From $95.00 USD

Regular price

Sale price

From $95.00 USD

Unit price

per

Regular price

From $28.00 USD

Regular price

Sale price

From $28.00 USD

Unit price

per

Regular price

$57.00 USD

Sale price

$51.00 USD

Unit price

per

Regular price

From $137.00 USD

Regular price

Sale price

From $137.00 USD

Unit price

per

Regular price

From $26.00 USD

Regular price

Sale price

From $26.00 USD

Unit price

per

Regular price

Sale price

$95.00 USD

Unit price

per

Regular price

Sale price

$48.00 USD

Unit price

per

Regular price

Sale price

$29.00 USD

Unit price

per

Regular price

Sale price

$97.00 USD

Unit price

per

Regular price

$203.00 USD

Regular price

Sale price

$203.00 USD

Unit price

per

Regular price

$232.00 USD

Regular price

Sale price

$232.00 USD

Unit price

per

Regular price

Sale price

$40.00 USD

Unit price

per

Regular price

Sale price

$54.00 USD

Unit price

per

Regular price

$158.00 USD

Regular price

$165.00 USD

Sale price

$158.00 USD

Unit price

per